By day, Phil Heckels holds down a respectable job as a commercial estate agent in Worthing, but in his spare time, he is transformed, Batman-like, into doodler extraordinaire Hercule Van Wolfwinkle.
Image: 'Rubbish' pet portrait artist Phil Heckels, aka Hercule Van Wolfwinkle.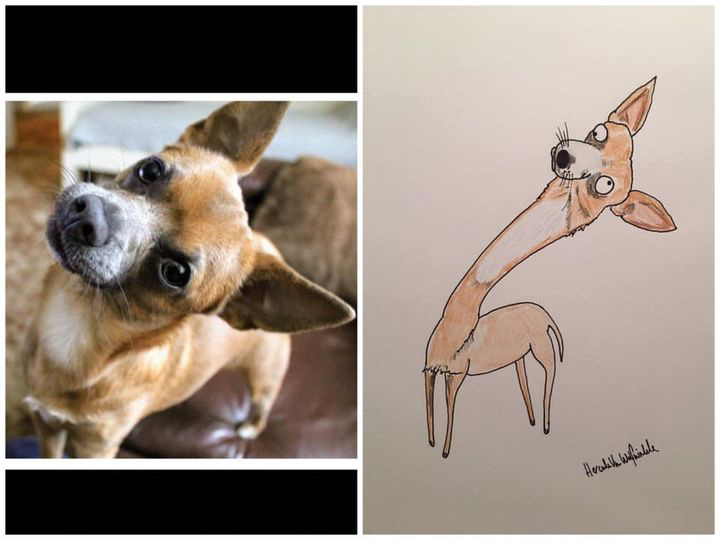 Donny, owned by 'Rick Ashton's mam'. The review said: "It reminds me of that time I went to a fireworks display and they set them all off at once by mistake; massively overwhelming at first but ultimately not what I had hoped for and bitterly disappointing."
After posting a drawing of his dog on Facebook for a joke, serious requests started to flood in and now Phil's sketches of people's pets have turned him into an internet sensation while his work is in demand all over the world.
His JustGiving page, www.justgiving.com/fundraising/portraitsbyhercule, has raised more than £47,000 for Turning Tides, a West Sussex-based charity for the homeless.
Ernie, described by Hercule as 'a Belgian Fox Poo Terrier.'
Content continues after advertisements
Q: You are being hailed as the Banksy of the animal art world. Did you ever think a simple request from your six-year-old son, Sam, to doodle your dog, Nala, would snowball the way it has?
"Within a week, I went from trying to encourage Sam to write thank you cards, to being inundated with pet portrait requests. It came down to a weird chain of events — lots of shares on Facebook and a friend suggesting a JustGiving page — in a short space of time."
Q: Your drawings, created under the spoof alias of 'acclaimed artist Hercule Van Wolfwinkle', have been described as "rubbish". Do you think that is a fair assessment of your work?
"Yes — I do think they're rubbish! It's a fair assessment in the context of someone paying £299 and expecting a good pet portrait! Some people think I'm a professional artist dumbing down my skills, but art has never even been a passing hobby of mine. However, I realise that my drawings have a style that people seem to enjoy and want to get behind to raise money for charity."
Q: How many portrait requests do you receive from people each day and how many pets have you drawn so far?
"I currently have about 7,000 outstanding requests and receive on average 2,000 a month. I've completed 400 – 450 portraits — most are dogs but I've also drawn a llama, stick insect, hedgehog, skunk, praying mantis, and tarantula.
"My favourite drawing is of a shaggy, grey dog wearing a knitted jumper. He was gorgeous and his picture was one of my better ones, although the review described him as looking like: 'a Hoover bag had exploded all over my nan'."
Q: Does Hercule have any more plans in the pipeline?
"I have a book coming out this spring, published by HarperCollins, and exclusive Hercule merchandise — calendars and tea towels — are available on the Turning Tides website at www.turning-tides.org.uk
"I would love to eventually hold an exhibition of my work, but most of all, I would like to keep the momentum going throughout 2021."
● Visit www.facebook.com/portraitsbyhercule to see more of Phil's work.
Content continues after advertisement