Your Dog Magazine September 2018
---
Issue Media
Issue Meta Data
Issue Number:

68

On Sale:

07/08/2018

Digital Edition:

£4.99

Print Edition:

£0.00 (plus postage)
Issue Summary
Inside the September issue of Your Dog Magazine you will find advice on how to build a better bond with your dog, 57 great giveaways, and we take a look at DIY grooming. Plus, meet Sherlock — the dog detective, find out all about the Dandie Dinmont, the first of our new puppy owner diary, and have your say in the Your Dog Product Awards 2018/19.
On Sale: 07/08/2018
---
Why Not Subscribe?
Ensure you never miss an issue of your favourite magazine by taking out a great value subscription.
---
What's in this Issue?
This month we welcome a new member to the Your Dog team, vet Vicky Payne, who will be writing a regular column for us starting this issue. We kick off with an insight into her typical week, and there will be lots more to follow, on a range of health topics — watch this space!
This is also the month when we ask all our readers to think about those special doggy products that make life with our dogs so much easier and more manageable.
It's the launch of the Your Dog Product Awards, now in their 12th year, which celebrate and recognise our readers' favourites, from grooming to flea products. You can find out how to take part in this major awards event on page 37, and, as an added incentive, there's the opportunity for one lucky reader to win a fantastic portrait of their pet — all the more reason to take part!
I think readers will love the feature on Sherlock this issue — the London Fire Brigade's very own dog detective, who has the ability to sniff out ignitable liquids, such as petrol or lighter fuel, at a fire scene, helping to deduce the cause. Sherlock's amazing talents make for fascinating reading.
And, finally, I hope you'll be inspired by Carolyn Menteith's article on mindful training this month. It really does make you think about how we train our dogs, and how, by being more mindful, and aware of our dogs' origins and personalities, we can bring out the best in them, and build a better bond. That's certainly something to aim for!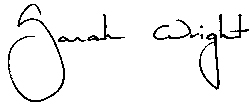 Sarah Wright, Editor