Your Dog Magazine January 2019
---
Issue Media
Issue Meta Data
Issue Number:

72

On Sale:

07/12/2018

Digital Edition:

£2.99

Print Edition:

£0.00 (plus postage)
Issue Summary
Inside this issue we show you how you can make 2019 the best year ever! See the results of the Your Dog Product Awards, find out if you could cope in a canine crisis, and read the stories behind the beautiful dogs featured in the Kennel Club's new breed rescue calendar. Plus, we're celebrating the special bond between owners and their older pets, find out how to maintain your contact with canines even when your find yourself dogless.
On Sale: 07/12/2018
---
Why Not Subscribe?
Ensure you never miss an issue of your favourite magazine by taking out a great value subscription.
---
What's in this Issue?
Another new year — and I know what should be at the top of your new year's resolutions list — a subscription to Your Dog Magazine, the UK's favourite, and one of the few places where you'll get dog experts and writers of the calibre of Carolyn Menteith, Carol Price, and many others all under one cover, so to speak!
Make sure you check out Carol's feature on how to make this a great year for you and your dog; it's full of good ideas and wise advice — inspiring stuff!
Carolyn caused a stir with her article last month on the lack of manners among certain dogs and their owners. We've had a great response to this — it seems a lot of you have experienced this kind of thoughtless behaviour, as well as much worse — and some of your comments are printed on the Letters pages this issue.
Space limitations mean I've had to be selective, but thanks to everyone who got in touch; we may have the opportunity to print more next month.
Enjoy the rest of the mag. From advice for the dogless on how to get a canine 'fix', to first aid tips, some lovely stories about the bond that develops between older dogs and their humans, and an update on the research into the dangerous disease Alabama rot, there's something for everyone.
A very happy and prosperous new year to you all!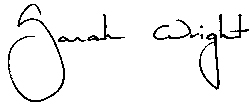 Sarah Wright, Editor