Your Dog Magazine December 2018
---
Issue Media
Issue Meta Data
Issue Number:

71

On Sale:

07/11/2018

Digital Edition:

£2.99

Print Edition:

£0.00 (plus postage)
Issue Summary
Inside the December issue you will find your chance to win a personalised dog bed, Christmas gift ideas for dog lovers and their dogs, and find out what it's like living with a dog with Arthritis. Plus, meet the UK's first funeral dog, stories of inspirational dogs, fireworks tips and tips for your puppy's first Christmas, and your chance to win £2,500-worth of festive freebies!
On Sale: 07/11/2018
---
Why Not Subscribe?
Ensure you never miss an issue of your favourite magazine by taking out a great value subscription.
---
What's in this Issue?
A very happy Christmas to all our readers and their dogs. Here's to a relaxing and fulfilling festive break, and maybe the opportunity to spend some more one-to-one time with our dogs.
After all, Christmas Day itself, and the days immediately before and after it, can be hectic and chaotic, and, for dogs, the disruption of their normal routine can leave them confused and disorientated. Having a little quiet time with you, either in the home, or out on a favourite walk, where you can practise a few familiar training exercises, can help to make them feel more grounded.
Our Christmas issue is filled with practical advice on coping with this busy time of year, and making sure your dog enjoys it as much as you do. Puppy owners will appreciate the advice in Project puppy! this month (page 63), but the owners of older dogs are probably just as likely to find the hints and tips useful.
If you're feeling lucky, why not enter our 'Festive freebies' competition (page 20), where we have a bumper £2,500-worth of giveaways up for grabs. Check out the selection of goodies on offer, then simply enter online or by using our competition coupon on page 81.
Finally, if you're feeling short on inspiration for gifts for dogs or dog-loving friends, maybe the Your Dog team can help out? We've asked some of our contributors to reveal what they really want for Christmas, and there are some great — and unusual — ideas. Turn to page 54 to find out more.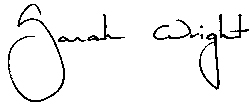 Sarah Wright, Editor