Your Dog Magazine August 2018
---
Issue Media
Issue Meta Data
Issue Number:

67

On Sale:

06/07/2018

Digital Edition:

£4.99

Print Edition:

£0.00 (plus postage)
Issue Summary
Inside the August issue of Your Dog we start our new series all about 'golden oldies' — in this issue, we take a look at how you can help your dog grow old gracefully, as he reaches his twilight years. Plus, meet ex-Army dog handler Samantha James and her canine comrade Stikky, we look at how to find the best day-care for your pet, and read our advice on how to make the most of those long and lovely summer days by getting out and about with your dog.
On Sale: 06/07/2018
---
Why Not Subscribe?
Ensure you never miss an issue of your favourite magazine by taking out a great value subscription.
---
What's in this Issue?
There's something very special about old dogs. Once you've shared your life with a dog for many years, you get to know each other well. You've learned to accept and appreciate their quirks and idiosyncracies; they've been at your side through thick and thin — uncomplaining, loyal, forgiving. Together, you can take pleasure in the simple things of life, and appreciate it so much more, because time is precious.
This month we start a new series celebrating older dogs. Over the next few months, we're going to be focusing on our 'golden oldies' and exploring the ways in which we can ensure that their twilight years are comfortable, stimulating, and as healthy as possible. After years of faithful companionship, it's the least we can do.
On the theme of remarkable human/canine relations, don't miss our feature on ex-Army dog handler Samantha James and her canine comrade Stikky, a Belgian Shepherd Malinois (see page 48). Sam is one of the driving forces behind Hero Paws, an organisation set up to help rehabilitate and rehome former military dogs, many of whom face an uncertain future once their working days are over. Sam and Stikky's devotion to each other is bound to make you think it's a cause worth fighting for.
And, finally, since August is holiday time, this issue is full of tips, advice, and recommendations from readers on dog-friendly holidays and days out, so enjoy your summer, and this issue of your favourite dog magazine!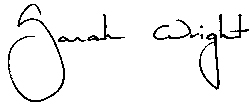 Sarah Wright, Editor