Welsh Corgi Cardigan Breed Profile
85577d34-d9ef-4e01-ab5e-91e58479efce
Welsh Corgi Cardigan Breed Profile
85577d34-d9ef-4e01-ab5e-91e58479efce
Devoted, loyal and capable of a good day's work. Originally bred for cattle driving by nipping at their heels - something you need to watch out for!
Cardigan Corgi Fact file
● Life expectancy: Around 14 years, although some live longer.
● Price: Around £1,000.
● Height (at withers): 30cm.
● Weight: Varies — dogs are heavier than bitches; 14 – 18kg.
● Coat care: If the coat is correct, they are 'wash and go' dogs, and if left to dry naturally, mud just falls off them. Sometimes, you get long coats (fluffies) in a litter, and this coat usually has a softer texture and is more difficult to deal with.
● Health: There is a DNA test for progressive retinal atrophy (an eye disease causing blindness) and Cardigan Welsh Corgis have to be tested clear (or be clear by heredity) before the Kennel Club will register their progeny. Imports also have to be tested clear before being registered in this country. Their long backs can cause problems, and there are sometimes cases of intervertebral disc disease (IVDD). Otherwise, they are pretty healthy.
● Character: They are clowns, quite strong willed (not surprising as they are cattle dogs), and lovely to live with.
● Trainability: They are intelligent so can be trained. Quite a number go through the KC Good Citizen Training Scheme, and some do agility.
● Exercise: They are versatile and can fit in with their owners' lifestyles. Long walks are fine (although exercise should be restricted until they are fully developed), but if you can only do short walks that's fine too, just adjust their food accordingly.
The Welsh Cardigan Corgi
The versatile, easy-to-live-with Cardigan Corgi makes an ideal family companion, as Julie Hill reveals.
The Cardigan Welsh Corgi is a very ancient breed.
There are two varieties of Welsh Corgi — the Cardigan and the Pembroke — and the Cardigan is believed to be the older of the two.
Medieval laws of the 10th century mention the Corgi, and Cardis were sometimes referred to as Bronnant Corgis, after the village in the centre of Cardiganshire (now known as Ceredigion) where the Cardigan Corgi lived and thrived.
"Before about 1875, the hills about Bronnant consisted mainly of crown or common land, with smallholdings made up of only a few acres of enclosed ground," explained Brenda Piears, vice chair of the Cardigan Welsh Corgi Association.
"The occupants had equal rights to graze their cattle on the common lands. In practice, each family came to regard certain areas of the lands as their own, and other families' stock coming on it as trespassers. So, the Corgis were used to drive trespassers' stock away from their 'own' land."
When the Government broke up much of the common land around Bronnant and sold it to the crofters, it meant fences were constructed. With their own land securely fenced against neighbours' stock, the crofters discovered that the Corgis were no longer so useful to them.
"They now needed a dog capable of fetching their own cattle home, so the Corgis made way for red and brindle herders," said Brenda.
"Fortunately, this was not universal. By the start of the 20th century, on lower lying farms, herders and collies had become more common, but on those higher up, adjoining what remained of the common lands, Corgis and Corgi-crosses remained.
"Until about 1870, Bronnant is thought to have been the only place in Wales that was home to no other dog breed but the Corgi. And it was around Bronnant that the last full-blooded Corgi, Mot, lived. Mot died young in an accident, but had just sired a litter from a Corgi X brindle heeler bitch, so the line carried on. Looking at a photo of one of those early dogs, you would recognise the Cardigan Corgi of today.''
Karen Hewitt, chairman of the Cardigan Welsh Corgi Association, acknowledges how clever the breed is. "I used to have German Shepherds, and I'd say, in terms of intelligence, they're pretty much on a par," she explained. "Corgis are very eager to please most of the time, though you do get some who think they're cleverer than you are!
"They are really easy to live with, and ideal for families with children. They also make very good guard dogs, because although they're short, they're really quite big dogs on short legs, and they've got a range of barks, including big, deep barks when they're protecting you.
"They'll walk as far as you want them to go, but they also like to cuddle up on the sofa, or on the floor on your feet," she concluded.
Karen Hewitt's dogs Carry and Sally enjoy the beach.
Q&A's
Owner: Alison Stevens, Guildford, Surrey.
Alison with her sons: Josh with Lister (left), and Jem with Nella (right).
Tell us about your dog.
"Lister is seven years old. He's my first ever dog. Prior to that I was quite fearful of dogs. Now I show, steward, and judge dog shows! It's been a massive learning curve!"
Why did you pick this breed?
"My sons wanted a dog — initially a Husky or German Shepherd Dog, but I knew we wouldn't cope with them. We looked at other breeds and settled on a Cardigan Welsh Corgi."
Where did your dog come from?
"From a breeder who's about 10 minutes from our house."
What have been your biggest challenges with your dog?
"The reality of having a puppy, and adjusting to life with a dog. I had fabulous mentors in the breeders, who gave me
a booklet with everything I could possibly want to know in it. So, I knew not to over-exercise him, not to let him do stairs, and I never felt I was floundering around in the dark. Another challenge has been keeping up with the hair!"
Lister was an adorable puppy.
What have been your happiest times together?
"Recently we completed his bronze, silver, and gold Good Citizen awards. That was very enjoyable — doing something together, just the two of us. And being out in the fresh air, having lovely free runs, is another happy experience. I've worked hard training him and I can let him off the lead."
Has he turned out to be what you expected?
"Better — from what I knew about the breed. The breeder told me exactly what I was getting and what to expect. And he has such a gentle nature."
Any ongoing issues?
"He's very vocal — but he was bred to move cattle and he's going to be stubborn. I'm sure he'd respond: 'Well, you haven't been murdered in your bed, you haven't been robbed, so therefore my barking is a very good thing!'"
Any advice to other potential owners of this breed.
"You really have to stand your ground — right from the start — because of their stubbornness. They are a breed that would walk all over you if you let them.
"Do your homework; learn about chondrodystrophic breeds; stairs are a no-no; be aware of their long backs."
Sum up your dog in one sentence.
"The most gentle, loving soul."
How easy is he to care for?
"Very. He's not a fussy eater or anything like that. From the grooming point of view, he's very much a 'wash and go' breed."
Would you have another dog of this breed?
"Yes! I went to shows with the breeder, and I knew there was a litter coming, so we, along with another friend, set up our own affix, and we co-own now. So, rather than choosing another pet dog, we were looking at dogs who had show potential, and I chose a bitch, Nella. Lister and Nella are great together; I think Corgis are a breed that likes company. Corgis do play rough, but it is just play. They love to play bitey face!"
How have you found training with your dog?
"Brilliant! Right from the word go, Lister wanted to learn and he's a really good boy — as long as you have plenty of food! His favourite is dried liver. He's very eager and quick."
What activities do you and your dog most like to share?
"Eating a packet of Quavers! Training, being together, sofa snuggles, duvet snuggles. We're now doing some obedience training, just because we like doing it!"
Cute Corgis
Here are some images of irresistible Corgis, shared by our social media followers.
Morag Macfarlane, Rushden, Northamptonshire.
Morag has spinal issues and epilepsy. "Bella (my Corgi) can give me up to 30 minutes advanced notice of a seizure, which prevents me from being severely injured and allows me to live a completely independent life. She can activate my lifeline alarm, which alerts paramedics and police to the fact that I need help. She is so trusted by my oncology neurosurgeon that he insists on her being present in pre-theatre as the anaesthetist prepares me to go under general anaesthetic for surgeries.
"In addition to the seizure alerts, Bella has also learned how to safeguard me at my most vulnerable times, and assists with my daily routines."
Bella at Discover Dogs.
Huw Bishop and John Essenhigh, Brynlluan Cardigan Corgis, Llanelli, Carmarthenshire.
"The Cardigan Corgi is a healthy breed, great with families, and other dogs. They are energetic, and love walks; they do lose coat so be prepared to brush regularly. We show our dogs, and have five; they share our home with us and four Labradors."
Huw and John's dog Monty.
Susan Hedges, Cambridge.
"Cardis have been kindly pretending that I own them since the 1980s.
"I was looking for a calm , biddable breed, more manageable than the Lab I'd just lost. Cardis seemed to fit the bill. I now have a new brindle puppy, Maggie. Lively, exasperating sometimes, she gets attention wherever I go and is a great advertisement for the breed. Full of energy and fun, she greets other dogs, their owners, and children with boundless joy and affection. I would never consider another breed. Cardis are simply the best."
Yvonne Caul, Aberystwyth, Ceredigion.
"I have lived in Cardiganshire since 1964 and had my first Cardi in 1963. I am proud to own a 'local' breed and would never have any other breed of dog. They are fun to live with, can fit into any household, and are intelligent enough to do obedience, agility, and conformation dog showing. One of my Cardi's qualified for the pairs agility at the Royal Show back in 1964; his partner was a Papillon."
Yvonne Caul's dog Eddie
Jakub Tichý, Prague, Czech Republic.
"The Cardigan Welsh Corgi is the only dog breed that actually realises it's better than you! Once, Miss Spaghetti opened her cage and casually walked to my chair, jumped on it, and took a nap. Another day she jumped from the chair to the kitchen island, munched on the carrots, and when I got home, just gave me the sassiest look, as if to say: 'Put me down, human, I'm too royal to do it on my own!"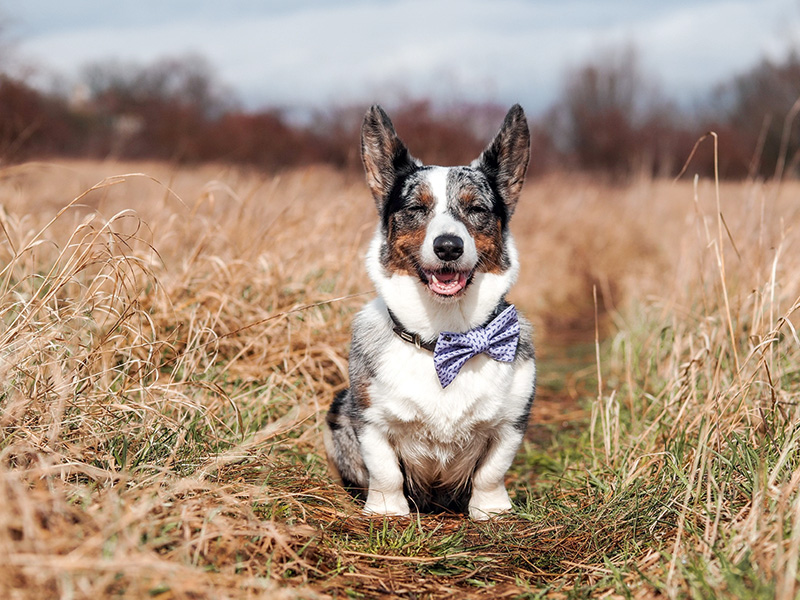 Jakub's Miss Spaghetti is a sassy Cardi!
INFO: For more information about Cardigan Welsh Corgis, visit The Cardigan Welsh Corgi Association website: www.cardiganwelshcorgiassoc.co.uk or check out the Kennel Club website: www.thekennelclub.org.uk
Content continues after advertisements