Lancashire Heeler Breed Profile
403ff90a-7e3b-43e9-b5f9-3a0e29c5ead3
Lancashire Heeler Breed Profile
403ff90a-7e3b-43e9-b5f9-3a0e29c5ead3
Assertive and active, compact and clever, could the Lancashire Heeler be the perfect canine companion for you?
Lancashire Heeler fact file
● Life expectancy: An average of 14 years, but they often live into their late teens.
● Price: £1,000 – £1,200.
● Size (at withers): 25.5 – 30.5cm (10 – 12in).
● Weight: 6 – 10kg.
● Coat care: Easy with a short, hard topcoat that only needs a regular brush or rub down, and a soft undercoat that keeps the dogs waterproof. They do moult around twice a year, but a quick bath will sort out any lingering fluff.
● Health status: While generally a healthy breed, there are a couple of eye problems that owners need to be aware of. There are DNA tests available for both primary lens luxation (PLL) and collie eye anomaly (CEA), which any reputable breeder would have carried out on the parents, and on the puppies should one of the parents be a carrier. It is recommended that owners ensure their dogs have regular clinical eye tests.
Occasional problems with slipping patellae have been seen in the breed and vets can check for this.
● Character: The best way to describe a Heeler is 'a big dog in a small body' — they are great fun to live with.
● Trainability: Easily trained if you are firm but fair. They thrive on activity and excel at all the usual dog sports.
● Exercise requirements: They are not lapdogs, and a good, regular walk a couple of times a day will keep them fit. They do, however, need something to occupy them or else they will find their own entertainment.
A lot of dog packed into a little body, the striking Lancashire Heeler retains many of his working instincts.
Originating from the north west of England, Heelers were used as cattle dogs, but instead of herding cows in the open, they worked in confined spaces, such as around markets and slaughterhouses. When they were driving the cattle, the dogs would know the route, and run ahead to stop the livestock escaping down side streets. They'd nip the heels of the cattle and stand up to the strongest and biggest bullocks. Combined with their ratting ability, this meant they could be put to good use on the local farms.
Gwen Mackintosh (of the Mackintosh toffee family) lived in Norfolk and bred and showed Boxers, but in the early 1960s, through her northern relatives, she got to know Heelers and started breeding them. She was instrumental in forming the Lancashire Heeler Club in 1978, and in getting the breed recognised by the Kennel Club (1981).
"As family dogs, they need to be socialised or they can easily revert to type and will nip heels if they're not stopped from doing it," said championship judge, breeder, and welfare co-ordinator Jacky Cutler.
"They tend to 'heel' anything — if you're not getting their dinner quickly enough, they'll push the back of your legs, but this is not in an aggressive way; it's just instinct.
"They need to be active; if not they will find their own entertainment. If they've had a good run, they'll settle when they come home, but they need a job of work too — obedience training, or tricks.
"They're quick to learn, but also quick to say: 'We've done that, we're not doing it again!' To keep them interested, they need lots of opportunities to show their intelligence."
Lancashire Heeler Q&A's
Owner: Elaine Syrett, Colchester, Essex.
Elaine's beautiful Tia.
Tell us about your dogs.
"I have five Lancashire Heelers: Colombo, Florence, Bronte, Tia, and Phoebee. They're busy dogs; they're a working breed. There's always something going on — that's the joy of having a LH."
Why did you pick this breed?
"I first encountered a Lancashire Heeler in Madeira on a family holiday. The dog was full of fun and mischief, with bags of personality, but very independent. Most of all, I wanted a dog I could train, do dog sports with, but small enough to take everywhere, and this little dog seemed to have all those qualities."
What have been your biggest challenges with your dogs?
"My second dog, Florence, was a little nervous and very different in personality to our boy, Colombo. I decided some training might help with her fears, and it did. She'll never be the most confident dog in the world but the bond we've built has been something that has not only made me a better dog owner, but has given me huge pleasure."
What have been your happiest times together?
"We have taken part in many country show dog displays, obedience training, agility, hoopers, canine conditioning, heelwork to music, scent work, trick training, parkour, and showing too, including at Crufts."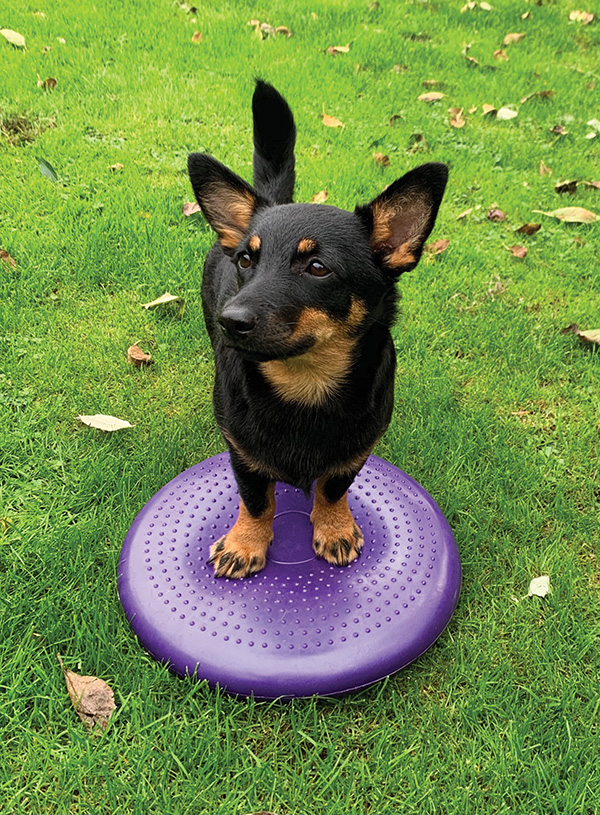 Elaine's Phoebee is the first Heeler to earn a parkour title.
Have your dogs turned out as you expected?
"I didn't want lapdogs — although they do like a cuddle — I wanted engaging and amusing dogs and they never disappoint."
Any ongoing issues?
"We have no ongoing health issues."
Advice to other potential owners of this breed?
"They're a herding/working breed and still retain those instincts; they need things to do. They want to be occupied — especially when they're younger — and half the fun of owning them is finding things for them to do. They do dig — I've never had so many holes in my garden! You either put up with it, tear your hair out, or don't have a Heeler!"
Sum up your dogs in one sentence.
"I would say they are fun with a great work ethic, a sense of humour, stubborn at times, willing to please, and always want to be involved."
How easy are they to care for?
"Very easy. They shed twice a year, producing lots of fluff and dander. I use a comb on them, and when their coats look dull I put them in the shower."
Would you have another dog of this breed?
"Once you own one, you wouldn't have any other breed."
How have you found training your dog?
"I'm very lucky with my trainer. Food, toys, and praise motivate them but mostly they love the one-to-one with me; they enjoy pleasing me."
Florence taking part in a display at Framlingham Country Fair.
What activities do you and your dogs most like to share?
"Whatever they're interested in. They each prefer different activities: Colombo mainly does obedience training now; hoopers, trick training, and canine conditioning for Florence; Bronte loves agility and earned her KC Gold Good Citizen Award at 20 months; Tia loves scent work and agility, she is also a show champion; and her daughter, Phoebee, at seven months, adores parkour and has just become the first puppy of this breed to earn a parkour title. I do a lot with my dogs.
A close community
Jacky Cutler is co-ordinator for the Lancashire Heeler Community Welfare Fund, which helps Heelers in need of a home, and those with medical issues. Though numerically small, the Lancashire Heeler community is tightknit. There's even a national network that can transport a dog from anywhere in the UK to their new home.
Jacky explained: "We don't have a lot of dogs, but we are in contact with older people who've got them, and if they die, or go into a home, we have to find homes for the dogs. We've rehomed four in the last few months by putting them on the Facebook group. As soon as I put them on, there are people saying: 'I want him/her!'
"We've recently had a situation with a puppy who came from Ireland without a pet passport, and was seized by trading standards and put into quarantine. That cost £1,800, so we stepped in and paid it because we knew the owners wouldn't be able to afford to, and we didn't want the risk of the puppy being put down. We asked the group if anybody wanted to donate, and we got the best part of £1,000 within the first 24 hours. It was incredible."
Nancy Van Alstine was able to adopt Marley through the Lancashire Heeler welfare community.
INFO: For more information about this breed, visit the Lancashire Heeler Association's website
www.lancashireheelerassociation.com, the Lancashire Heeler Community, www.lancashireheelers.org, or check out the Kennel Club website: www.thekennelclub.org.uk
Content continues after advertisements