German Shepherd Breed Profile
3f94fbe2-1413-43ea-9870-b9d0619cd3fd
KC Group Pastoral
Size Large
Weight About 34kg
Height Dogs around 63cm; bitches around 58cm
Average lifespan 10 years
Good with children? Unknown
Good guard dogs? Yes
Moulting level Heavy
Grooming Moderate
Exercise requirement Lots
Jogging partner Yes
Colours Black, ash, and iron grey with brown, light brown, or yellow markings. Black is the most common coat colour. There are white GSDs, but this coat colour isn't accepted in the show ring
Temperament Intelligent and loyal, devoted to his owner
German Shepherd Breed Profile
3f94fbe2-1413-43ea-9870-b9d0619cd3fd
A GSD can have one of two coat types: standard and long. They are very versatile and adapt well to most living situations.
German Shepherd Dog fact file
● Life expectancy: Between 10 and 15 years.
● Price: Varies depending on whether you are purchasing a pet, a show, or
a working puppy; current pet prices are around £1,000 to £1,500.
● Height (at withers): Dogs: 60 – 65cm; bitches: 55 – 60cm.
● Weight: Dogs: 30 – 35kg; bitches: 25 – 30kg.
● Coat care: Typically a double-coated breed with two layers of fur; a top layer, called the top coat, which is slightly more wiry and abrasive, with a softer and light-coloured undercoat. There are also long-coated GSDs.
● Health: Generally a healthy breed. When purchasing a puppy, always check the health status of the parents' hips and elbows. These will be scored by the BVA (British Veterinary Association) and can be found on the parents' pedigree.
● Character: Steady of nerve, loyal, self-assured, courageous, and tractable. Never nervous, over aggressive, or shy.
● Trainability: Sociable and loves to train, pleasing their owner at all times. GSDs need to be taught the required boundaries from an early age. Attending obedience classes is highly desirable, where the puppy can learn in a fun environment with other dogs.
● Exercise requirements: This is a large breed and they require several long walks a day; a minimum of half a mile for adult dogs, and more frequent, shorter walks for puppies under the age of 12 months.
● With thanks to Andrew Winfrow, breed contact for the British Association for German Shepherd Dogs (BAGSD), for his help with this feature.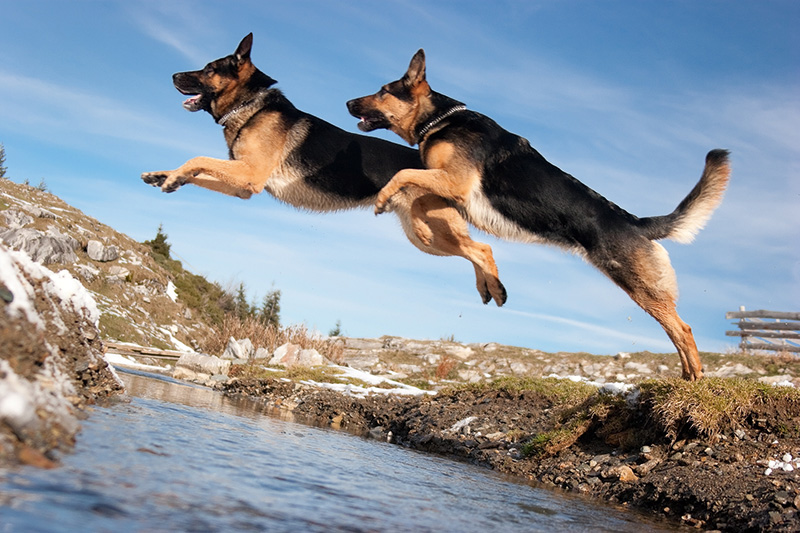 These dogs are full of energy.
The sensitive and devoted German Shepherd is a dog of many talents and a true all-rounder, as Julie Hill explains.
The German Shepherd Dog (GSD) is one of the most recognisable dog breeds in the world, and the roles these dogs take on are varied and complex — from being
a much-loved pet to catching criminals.
The GSD was developed in Germany at the end of the 1800s, by cavalry captain Max von Stephanitz. Originally bred as herding dogs, their job was to guard and maintain large flocks in unfenced areas.
Stephanitz, together with other breed enthusiasts, further developed and promoted the GSD as a working dog, standardising the breed countrywide. In 1899, he founded the Verein für Deutsche Schäferhunde (SV) with his friend Artur Meyer, and established
a register that determined a dog's suitability for breeding based on their physical and mental characteristics. Under Stephanitz's guidance, the SV became the single largest breed club in the world, and it was his idea to introduce the breed to other types of work such as delivering messages, rescue work, and as personal guard dogs.
During the First World War, the Germans used German Shepherds as messenger dogs and to locate the wounded. Allied soldiers admired the dogs' intelligence and courage and brought many of them home after the war, establishing the breed in other countries. The name German Shepherd was changed to Alsatian during the First World War and subsequently changed back in the mid 1970s.
The GSD has been changed drastically over the years by breeders, but they remain extremely popular dogs because of their personalities. Among their positive qualities are intelligence and protectiveness, and they are great family companions, although they need firm training as puppies.

They are irresistible puppies!

Q&A's
Owner: Elaine Fox, South Wolds, Lincolnshire.
Tell us about your dog.
"Lily is an 18-month-old sable German Shepherd. She currently weighs around 41kg so she's a big girl. She's a real lapdog and does not realise how big she is. She loves her food — especially cheese — and water of any sort; muddy puddles are her favourite.
"She also loves a good conversation. She doesn't bark (something she does rarely), but will literally 'talk' back to you when you speak to her. I probably sound quite mad, but it's a cross between a whine and a grumble — that's the only way I can describe it — it's very funny and I'm sure lots of other GSD owners will know exactly what I mean."
Lily loves a game of ball in the garden.
Why did you pick this breed?
"A German Shepherd was my husband's choice. He grew up with them, and I grew up with terriers, but any time we discussed getting a dog he would say: 'You can't 'hug' a little dog.' When we got our first Shepherd, I understood what he meant."
Where did your dog come from?
"We adopted her at 11 weeks old from UK German Shepherd Rescue (UK-GSR). It's a registered charity helping to rescue and rehome German Shepherds: www.uk-gsr.co.uk"
What have been your biggest challenges with your dog?
"With Lily, definitely her size — she's a big girl and very strong, so training has been key."
What have been your happiest times together?
"She's only 18 months old, so we're looking forward to making years of memories with her, but she has most definitely been our saviour during lockdown."
Has your dog turned out to be as you expected?
"My first GSD was very nervous, but from day one I realised Lily was a whole different being: confident, fearless, and in love with everyone and everything, especially dogs. And that's how she has stayed."
Any ongoing issues?
"Not really, her training took a bit of a hit with lockdown but when classes resume she will get to meet up with her doggy mates again. She adores other dogs and wants to play with every one she sees
— she's still learning that not every dog likes a big furball bouncing around trying to get them to play. It's something that we are working on and she's slowly improving."
Any advice to other potential owners of this breed?
"Do your research. Speak to other German Shepherd owners, and try to meet their dogs. Remember that each dog is different, and socialisation is a very important factor with Shepherds. And get used to sharing your bed and sofa with a big furry lump!"
Sum up your dog in one sentence.
"An absolute joy."
Lily is both beautiful and brainy!
How easy is she to care for?
"Shepherds do like to spread their fur around so making sure she gets brushed regularly is a definite must. Other than that she's pretty easy going, and is happiest lying on the sofa having cuddles with her dad."
Would you have another dog of this breed?
"Definitely."
How have you found training your dog?
"She is very clever and picks things up quickly. We are lucky in that we have found a trainer with an expansive knowledge and understanding of the breed."
What activity do you and your dog most like to share?
"Lily loves to play ball; she will pick up the ball and literally throw it at your feet waiting for you to pick it up and throw it for her. She runs around the garden at 100mph."
Three of a kind
Debbie Connolly is the founder of Bravo Working Dog Rescue, an expert witness, and a devotee of the German Shepherd. Here, she explains how the breed has essentially evolved into three types: Germanic, English, and working.

"The Germanic types are my sort of Shepherds — flashy, high-drive, high-energy Shepherds, who you'll often see running about barking at things. They are quite long-bodied. There are some terrible exaggerations in the show ring, with cow hocks and roach backs, but there are some very nice, healthy ones around as well.
"The English types tend to be a bit shorter in the back, and a bit more upright at the front; a squarer looking dog. They're a lot more placid, easier going, and lower drive than the Germanics.
"Generally speaking, the working types are bred as a very specific type of dog and retain certain characteristics appropriate to the job they will be required to do.
"Because of criticism of the over exaggeration in the Germanic type, there are some healthier, squarer ones being bred, and some people have been breeding the English and Germanic types together to produce a more middle of the road dog.
"I spend a lot of time in my career as an expert witness in dog cases, and inevitably I see a lot of police dogs.
"I've known magistrates who've thought all German Shepherds are police dogs and prone to biting people, and that's not true of police dogs and it's certainly not true of all GSDs.
"If I could only have one breed for the rest of my life, I wouldn't hesitate to choose a GSD."
The search is on...
Five-year-old GSD Clint won trophies in the show ring, but it wasn't until he started scent work that he discovered his real vocation.
"It was just part of a training session we went to. He really enjoyed it, and so did I, so we expanded it from there," said owner Lisa Jane Armstrong, from Huddersfield, West Yorkshire.
Now, Clint actively searches for lost dogs, cats, and also does human identification tracking.

Lisa explained: "It started when someone asked us to look for their cat who'd been missing for a week. There was an empty house two doors down. Somebody was going in to cut the lawn, and left the door open. The cat got locked in. We tracked the cat to this house, but didn't think it was the right place until, lo and behold, there was the cat looking at us from one of the windows!
"One lady who'd lost her German Shepherd, Dexter, phoned us. Clint tracked him from the house to a quarry, and we found him running around chasing rabbits without a clue that anyone was worried about him!
"Clint absolutely loves doing scent work and could literally find a needle in a haystack! His most memorable search was for Millie, a 14-year-old deaf, blind terrier who got lost on her family walk. She'd been missing for three days and was close to death when we found her, but she's still happily plodding around to this day. A hundred people couldn't have found her — down a drop covered with overgrown brambles — but Clint did!"
INFO: For more information about GSDs, visit the website of the British Association for German Shepherd Dogs (BAGSD): http://bagsd.net/ or check out the Kennel Club website: www.thekennelclub.org.uk